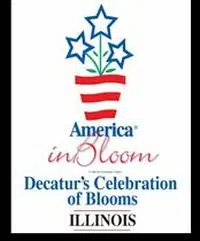 America in Bloom Schedule
• July 18th 5:45 – Decatur Airport
Two America in Bloom Judges will be arriving at Decatur Airport at approximately 5:45.
A small welcome ceremony is planned and there will be an opportunity to interview the
judges and AIB volunteers.
• July 19th 8:00 PM – Beach House
A Celebration will be held at the Beach House to recognize volunteers and sponsors.
AIB judges will speak and will be available for interviews.
• On July 19th and 20th, the judges will be participating in a tour of many key locations in our
community.
About America in Bloom – Decatur's Celebration of Blooms
America in Bloom envisions communities across the country as welcoming and vibrant places to live, work, and play benefiting from colorful plants and trees; enjoying clean environments; celebrating heritage, and planting pride
through volunteerism.
America in Bloom promotes nationwide beautification through education and community involvement by
encouraging the use of flowers, plants, trees, and other environmental and lifestyle enhancements.
Participants experience better cooperation among municipal, commercial and residential sectors because everyone
works toward a common goal. They enjoy visible results. Via the national symposium and awards, they have
information and cultural exchanges with neighboring, national and international communities.
Be a part of the solution, Beautify Decatur still needs groups to help with litter clean up and landscaping
improvements along our corridor. Check the Beautify Decatur Facebook page for clean-up events, or contact Ellen
Hearn at DecaturinBloom@gmail.com, and become a part of making Decatur competitive at the National Level.