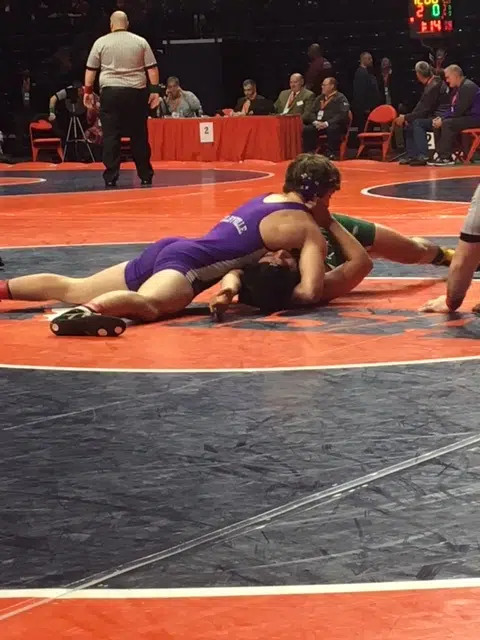 (Champaign, IL) — Class 1A opened day two of the 2018 IHSA State Wrestling Tournament inside the State Farm Center in Champaign and local wrestlers were looking for the a bid into the semifinals and the state championship.
Clinton sophomore Micah Downs stayed hot with a 5-2 win in the quarterfinals to advance to the semifinals and then lost to number five ranked Jonah Pearson 8-5 and will be guaranteed on a spot on the podium. Down's teammates advanced on the consolation side as 126 pound senior Tyler Harris picked up a fall, Christian Reynolds beat Michael Carpenter of Cumberland 13-8 and Luke Shobe used a second period fall to beat JaVontay Bright of Westchester (St. Joseph.)
Monticello's Ethan O'Linc at 120 pounds and Henry Dawson at 160 pounds both picked up victories by fall in the consolation to stay alive and have at shot at the podium on Saturday. Shelbyville's Cade Helton kept his podium hopes alive with a fall in the consolations at 152 pounds.
Wrestling will get underway on Saturday morning with quarterfinal and semifinals wrestlebacks at 9 a.m. in all three classes. You can find result and recaps at decaturradio.com and follow the action live at IHSA.rog and trackwrestling.com.