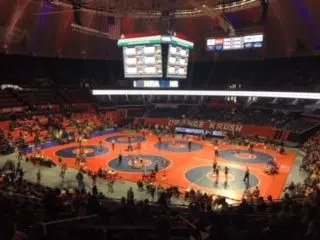 (Decatur, IL) — 14 State Champions will once again be crowned in Class 1A, 2A and 3A as the IHSA Individual State Wrestling Tournament get underway on Thursday and runs through Saturday inside the State Farm Center in Champaign.
This year 19 wrestlers from nine different schools will be representing the area in Champaign. Clinton led the way by qualifying five wrestlers, Mahomet-Seymour qualified three, Lincoln, Mattoon, Monticello and Mt. Zion all qualified two wrestlers and Eisenhower, Shelbyville and Warrensburg-Latham each qualified one wrestler.
Five wrestlers will be making their third trip to Champaign which includes; Christian Reynolds of Clinton, David Spencer and David Griffet of Mahomet Seymour, Garrette Branson of Mattoon and Cade Helton of Shelbyville.
Eight wrestlers are making their second appearance in Champaign which includes; Luke Shobe, Micah Downs and Kyle Hammer of Clinton, Caleb Guise of Eisenhower, Hayden Stanley of Mattoon, Ethan O'Linc of Monticello and Kooper Loehr and Peyton Mahan of Mt. Zion.
Six wrestlers are making their first-ever trip to the State Farm Center which includes; Tyler Harris of Clinton, Austin O'Donoghue and Trevor Bree of Lincoln, Ben Stahl of Mahomet-Seymour, Henry Dawson of Monticello and Adam Maxwell of Warrensburg-Latham.
Storylines to keep an eye on during this year's tournament. Loehr a junior from Mt. Zion makes his return to Champaign with a 40-0 record, since qualifying as a freshman in 2016. He could have a potential matchup with returning state medalist Nathan Orosco of Maple Park (Kaneland) in the Class 2A 120 pound quarterfinals.
O'Donoghue made history last weekend at sectionals in Lincoln, when he became the first freshman in Lincoln school history to qualify for the state tournament. Branson a senior at Mattoon ranked second in the state just missed out on placing last year and carries a 37-1 record into this year's tournament with a Class 2A 220 pound state title on his mind. Luke Shobe of Clinton who is ranked #3 at 170 in Class 1A brings a record of 40-2 into the State Farm Center.
Wrestling will get underway on Thursday afternoon with Class 1A taking to the mats at 1 p.m. followed by Class 2A and 3A. You can find recaps and results online at decaturradio.com and you can also follow the action live all three days at trackwrestling.com and IHSA.org.