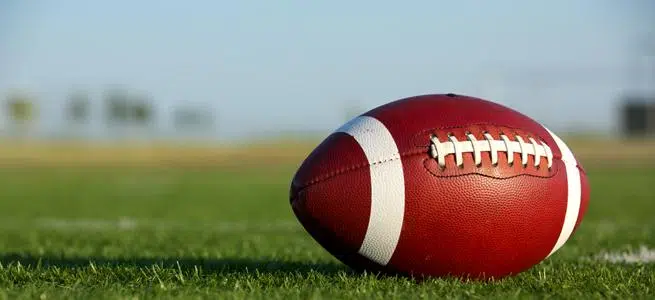 Titans Rally Past Chiefs, Advance To Divisional Round
(Kansas City, MO)  —  The Titans overcame an 18-point halftime deficit to rally past the Chiefs, 22-21, in NFL Wild Card action from Kansas City.  Marcus Mariota threw for two touchdowns, including one to himself, as Tennessee outscored KC 19-0 in the second half.  Mariota's red-zone pass was batted back into his own hands by Darrelle Revis to give the Titans their first touchdown in the third quarter.  Derrick Henry rumbled for 156 yards on the day and scored on a 35-yard run in the fourth, and Eric Decker caught the winning TD with 6:06 left to give Tennessee the lead.  Alex Smith threw for 264 yards and two scores for the Chiefs, but the offense went cold in the second half.  Kansas City has lost six consecutive home playoff games.
Falcons Eliminate Rams, Advance To Face Eagles
(Los Angeles, CA)  —  Matt Ryan hit Julio Jones for a touchdown with less than six minutes left as the Falcons eliminated the Rams with a 26-13 win in Wild Card action in Los Angeles.  Falcons kicker Matt Bryant nailed all four of his field goal attempts in the win.  Devonta Freeman and Tevin Coleman combined for 107 rushing yards and a touchdown as the sixth-seeded Falcons advance to face the top-seeded Eagles in the divisional round next week.  Jared Goff threw for 259 yards and a score in defeat for the Rams.  Todd Gurley the Second had 101 yards rushing, but L.A.'s season is over.
Pacers Trash Bulls
(Indianapolis, IN)  —  The Pacers limited the Bulls to just 11 points in the second quarter and cruised to a 125-86 victory in Indianapolis.  Victor Oladipo finished with 23 points and nine assists in the win and Domantas Sabonis added 22 off the bench.  The Pacers ended a five-game slide.  Bobby Portis scored a team-high 15 points for Chicago, which lost every quarter.  The Bulls have lost four-of-five.
Flyers Blitz Blues
(Philadelphia, PA)  —  The Flyers scored twice in every period as they blitzed the Blues, 6-3, in Philadelphia.  Sean Couturier scored two goals in the win and Claude Giroux finished with a goal and two assists.  Brian Elliott finished with 28 saves as Philly scored six goals in its second straight win.  Paul Stasny and Ivan Barbashev each had a goal and assist for St. Louis in defeat.  Jake Allen gave up five goals on 38 shots as the Blues' three-game win streak was snapped.
Providence Stuns Xavier
(Providence, RI)  —  Providence put an end to fourth-ranked Xavier's 10-game win streak with an 81-72 victory at home.  Kyron Cartwright scored 19 points and dished out nine assists for the Friars, who improved to 11-and-6.  Isaiah Jackson added 18 off the bench in the win.  Kerem Kanter posted 24 points and 12 rebounds in defeat for the Musketeers, who fell to 15-and-2 overall and 3-and-1 in the Big East.
Virginia Cruises Past North Carolina
(Charlottesville, VA)  —  Devon Hall scored 16 points for number-eight Virginia as it stymied 11th-ranked North Carolina 61-49 in Charlottesville.  Freshman De'Andre Hunter was the only other player in double figures for the Cavaliers with 10 points.  Virginia forced 19 Tar Heel turnovers on its way to 14-and-1 overall and 3-and-0 in ACC play.  North Carolina shot under 30-percent from the field as it was held to a seaon-low output in points.  Joel Berry the second paced the Tar Heels with 17 points as they fell to 12-and-4 with a 1-and-2 conference mark.
LSU Edges Texas A&M
(College Station, TX)  —  Freshman Tremont Waters scored the game-winning three-pointer with one second left as LSU edged number-13 Texas A&M, 69-68, in College Station.  Waters finished with 21 points in the upset win.  Aaron Epps and Skylar Mays each poured in 11 points as LSU improved to 10-and-4.  The Aggies fell to 0-and-3 in the SEC with their third straight loss.  Tyler Davis recorded 19 points and 12 rebounds in defeat.
Colorado Upends Arizona
(Boulder, CO)  —  McKinley Wright the Fourth led five Colorado players in double-figures as it upended number-16 Arizona 80-77 in Boulder.  Wright poured in 16 points and dished out 10 assists as the Buffaloes picked up their second-straight upset of an Arizona school after knocking off ASU Thursday.  Dallas Walton added 15 points while Namon Wright and Dominique Collier scored 14 apiece in the winning effort.  Colorado improved to 10-and-6 overall withg a 2-and-2 mark in Pac-12 play.  Deandre Ayton scored 26 points to pace the Wildcats as their winning-streak was ended at nine.  Arizona fell to 12-and-4 and 2-and-1.
Mountaineers Top Sooners
(Morgantown, WV)  –  Freshman Teddy Allen scored 20 points off the bench on 9-of-11 shooting as number-five West Virginia beat seventh-ranked Oklahoma 89-76 in a Big 12 showdown in Morgantown.  Lamont West and Jevon Carter each contributed 17 points to the Mountaineers' victory.  West Virginia hiked its record to 14-and-1 and 3-and-0 in the Big 12.  Sooner freshman Trae Young finished with 29 points.  Oklahoma scored a season low in points.  The Sooners had their 10-game winning streak snapped to fall to 12-and-2 overall and 2-and-1 in conference play.
Kansas Holds Off TCU
(Fort Worth, TX)  —  Devonte' Graham poured in a game-high 28 points as Kansas held off number-10 Kansas held off 15th-ranked TCU 88-84 in Fort Worth.  The Jayhawks took the lead for good with 3:02 left and held off a late rally on their way to 12-and-3.  Sviatoslav Mykhailiuk pitched in 20 points and Udoka Azubuike scored 14 in the winning effort.  Kansas is 2-and-1 in Big 12 play.  Vladimir Brodziansky paced the Horned Frogs with 20 points.  TCU has lost two-of-three to open conference play and fell to 13-and-2 overall.
Tennessee Rallies To Beat Kentucky
(Knoxville, TN)  —  Admiral Schofield scored 20 points as Number-22 Tennessee rallied from an eight-point halftime deficit to beat 14th-ranked Kentucky 76-65 in Knoxville.  Grant Williams scored 16 of his 18 points in the second half for the Volunteers.  Tennessee improved to 10-and-4 and 1-and-2 in SEC play.  Quade Green had 14 points for the Wildcats, while PJ Washington tallied 13.  Kentucky dropped to 12-and-3 and 2-and-1 in conference play.
NC State Stuns Duke
(Raleigh, NC)  —  Torin Dorn nailed two key late three-pointers as North Carolina upset second-ranked Duke, 96-85, in Raleigh.  Dorn finished with 16 points as did Omer Yurtseven.  Allerik Freeman added 15 points as the Wolfpack improved to 11-and-5.  Marvin Bagley the Third put up 31 points, 10 rebounds and four blocks for Duke, which fell to 13-and-2 overall and 1-and-2 in the ACC.  The Blue Devils have lost three of their past five games to the Wolfpack in Raleigh.
>>Auburn Upends Arkansas
(Auburn, AL)  —  Mustapha Heron led a balanced Auburn attack with 17 points as the Tigers clipped 23rd-ranked Arkansas 88-77 in Auburn.  Desean Murray added 15 points for the Tigers as they improved to 14-and-1 and 2-and-0 in SEC play.  Jared Harper pitched in with 14 points and Bryce Brown scored 13 in the winning effort.  Jaylen Barford paced the Razorbacks with 21 points as they lost their second in a row.  Arkansas fell to 11-and-4 with a 1-and-2 mark in conference play.