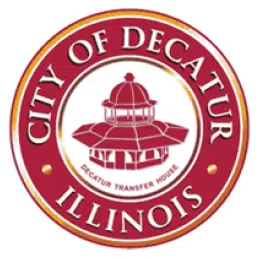 (Decatur, IL) – Ten new officers were sworn into the Decatur Police Department on Thursday morning, during a ceremony in the City Council Chambers at the Decatur Civic Center.
Seven of the ten new officers will attend the new Macon County Law Enforcement Training Center for fourteen weeks.  The other three will go right into the department's field training program because of previous experience.
The new officers are Kristin Davis of Athens, IL, Nicholas Errett of Springfield, IL, Philip Ganley of Decatur, IL, Andrew Medina of Bartonville, IL, Clay Pollmann of Bartelso, IL, Samuel Robeson of Beardstown, IL, Jacob Stewart of Mt. Zion, IL, Xxaviar Warren of Mt. Zion, IL, Judson Wienke of Tuscola, IL and Jeremy Williams of Caruthersville, MO.