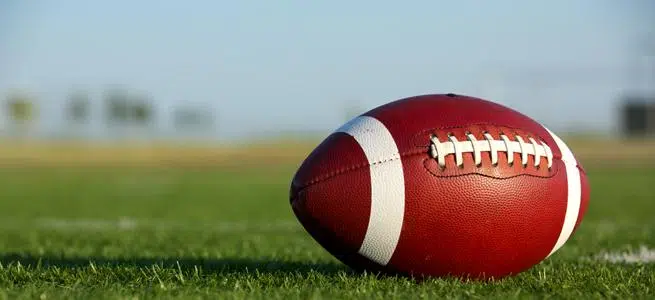 Lions Down Bears, Stay Alive In Playoff Race
(Detroit, MI)  —  Darius Slay had two of Detroit's three interceptions as the Lions downed the Bears, 20-10, in Saturday NFL action from Ford Field.  Matthew Stafford threw for 237 yards and two touchdowns for the Lions, who improved to 8-and-6.  Detroit jumped out to a 13-3 lead at halftime, and Stafford linked up with Eric Ebron for a score in the third to put the game out of reach.  The Lions are still in the mix for a Wild Card spot.  Mitchell Trubisky threw for 314 yards, a touchdown and three picks as Chicago fell to 4-and-10.  The Bears have lost six of their past seven and reached at least 10 losses for the fourth straight year.
Chiefs Drag Chargers, Take Control Of AFC West
(Kansas City, MO)  —  Kareem Hunt scored pair of second half touchdowns as the Chiefs dragged the Chargers, 30-13, in Kansas City.  Hunt finished with 206 yards of total offense, including 155 yards on the ground.  Alex Smith threw two touchdowns, one to Hunt and another on a 64-yard strike to Tyreek Hill in the first half.  Marcus Peters had two interceptions and forced a fumble for KC, which moved to first in the division at 8-and-6.  Phillip Rivers threw a touchdown for the Chargers, but also tossed three picks and was sacked twice.  Melvin Gordon ran for 78 yards and a score and also led the Chargers with six catches for 91 yards.  They're now second in the division at 7-and-7.
Blues Blank Jets
(St. Louis, MO)  — Carter Hutton logged a career-high 48 saves as the Blues shut out the Jets 2-0 in St. Louis.  Vladimir Tarasenko and Vince Dunn scored on power plays.  The Blues ended a two-game skid and are 5-2-and-0  in their past seven games.  Kyle Connor took seven Winnipeg shots without scoring.  The Jets went 0-for-4 on power plays.  Winnipeg lost its sixth straight road game.  The two teams will meet again on Sunday in Winnipeg, where the Jets are 11-3-and-1.
Indiana Upends Notre Dame At Crossroads Classic
(Indianapolis, IN)  —   Juwan Morgan led the way with a career-high 34 points and 11 rebounds as Indiana clipped number-18 Notre Dame in overtime, 80-77, at the Crossroads Classic in Indianapolis.  Morgan scored the final eight points in regulation and added eight more in OT including the go-ahead dunk with 8.6-seconds left.  Robert Johnson pitched in 20 points as the Hoosiers improved to 6-and-5.  Notre Dame squandered an eight point lead in the final two-minutes of the second half as it fell to 8-and-3.  Bonzie Colson paced the Fighting Irish with 29 points and 11 boards.
In the Classic's other game 17th-ranked Purdue clobbered Butler 82-67.  The Boilermakers are now 11-and-2 and the Bulldogs dropped to 8-and-3.
Clemson Slips Past Florida
(Sunrise, FL)  —  Clemson rallied from a nine-point deficit with just over five minutes remaining in the game to beat number-22 Florida 71-69 in the Orange Bowl Classic at the BB&T Center.  Marcquise Reed fired a full-court pass to Elijah Thomas for a dunk to put Clemson ahead 69-68 with 37 seconds left in the game.  Reed scored 22 points to lead the Tigers to their fifth straight win.  Jalen Hudson finished with 23 points for the Gators, who dropped to 6-and-4 with the loss.  Florida has dropped four of its last five games.
Oklahoma State Stuns Ranked Florida State
(Sunrise, FL)  —  Mitchell Solomon's tip in with six seconds left lifted Oklahoma State to a 71-70 win over 19th-ranked and previously unbeaten Florida State in the Orange Bowl Classic in Sunrise.  Solomon took a charge as the game ended to seal the victory.  Jeffrey Carroll led the Cowboys with 23 points, while Solomon had 12 points and 11 boards.  OSU improved to 8-and-2.  Phil Cofer scored a career-high 22 points and Terance Mann had 20 points and 14 rebounds for the Seminoles.  Florida State dropped to 9-and-1, leaving only four unbeaten teams left in Division One.
Young, Oklahoma Stun Wichita State
(Wichita, KS)  —  The legend of Trae Young continues to grow as number-24 Oklahoma knocked off third-ranked Wichita State, 91-83, in Wichita.  The true freshman finished with 29 points and 10 assists for the Sooners, who improved to 8-and-1.  OU led by 15 at halftime, and maintained the lead in the second half to notched the upset.  Young leads the nation in scoring and is third in assists per game.  Darral Willis Junior finished with 20 points and 12 rebounds for the Shockers, who fell to 8-and-2.  Landry Shamet added 17 in defeat.
Rutgers Rallies To Upset Seton Hall
(Piscataway, NJ)  —  The Scarlet Knights closed the game on a 17-2 run and upset 15th-ranked Seton Hall, 71-65, at the Garden State Hardwood Classic in Piscataway.  Corey Sanders scored a season-high 22 points as Rutgers improved to 10-and-3.  DeShawn Freeman scored 12 points and grabbed 16 rebounds in a stunning win for the Scarlet Knights, who trailed by 10 at halftime.  The Pirates didn't score a field goal in the final six minutes and fell to 9-and-2.  Myles Powell led Seton Hall with 18 points and Angel Delgado added seven points and 21 rebounds.