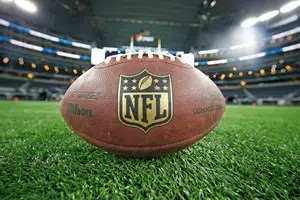 >>Cowboys' Jones Threatening To Sue NFL If Goodell Extension Approved
(Frisco, TX)  —  Cowboys owner Jerry Jones is ready to take legal action to put a stop to a contract extension for NFL commissioner Roger Goodell.  The "New York Times" reports Jones is threatening a lawsuit against the league if an extension for Goodell beyond 2018 is approved.  ESPN reports Jones has hired a lawyer to explore whether the requirement of two-thirds of NFL owners needed to approve an extension can be increased to three-fourths.
>>Two Unnamed Giants Say McAdoo Has Lost Locker Room
(East Rutherford, NJ)  —  Head coach Ben McAdoo has apparently lost his locker room.  Two unnamed players on the 1-and-7 Giants tell ESPN that he no longer has the team's support.  The Giants are coming off a 51-17 home loss to the Rams this past Sunday.  New York's only win this season came in Week Six at Denver.  The Giants are on the road to play the 0-and-9 49ers this Sunday.
>>Seahawks Take On Cards On TNF
(Glendale, AZ)  —  It's an NFC West matchup tonight on "Thursday Night Football" in the desert.  The Seahawks and Cardinals meet at University of Phoenix Stadium.  Seattle has lost two of its last three games to fall to 5-and-3.  The Cardinals have alternated wins and losses every week and are 4-and-4 after Sunday's win at San Francisco.  The Rams lead the division at 6-and-2.
>>Colts Host Steelers Sunday
(Indianapolis, IN)  —  The Colts play host to the Pittsburgh Steelers on Sunday at Lucas Oil Stadium.  Indy looks to build a winning streak after beating the Texans in Week Nine.  The Colts are last in the AFC South at 3-and-6, with the Titans and Jaguars tied for first at 5-and-3.  With Andrew Luck officially out for the season, Jacoby Brissett will remain the team's starting quarterback.
>>Bears Preparing For Packers
(Lake Forest, IL)  —  The Bears are ready to start the second half of their season.  Chicago is at home Sunday against NFC North rival Green Bay at Soldier Field.  The Bears are 3-and-5 coming off their bye, while the Packers are 4-and-4.  The Bears dropped the first meeting 35-14 at Lambeau Field back in Week Four.
>>Illinois Hosts Indiana On Saturday
(Champaign, IL)  —  Illinois football tries to grab its first Big Ten win of the season on Saturday hosting Indiana.  The Fighting Illini have lost seven straight to fall to 2-and-7 overall and 0-and-6 in conference.  Indiana is 3-and-6 and also 0-and-6 in Big Ten play.
>>Warriors Win Without Durant
(Oakland, CA)  —  The Warriors didn't need Kevin Durant to blow out the Timberwolves 125-101 at ORACLE Arena.  Klay Thompson hit six threes on his way to 28 points as Golden State won its fifth straight to improve to 9-and-3.  Durant tells ESPN he expects to play on Saturday against the 76ers.  Minnesota had its five-game winning streak snapped to fall to 7-and-4.
>>Pitino Was Apart Of Payment Scheme
(Undated)  —  It keeps getting worse for former Louisville head basketball coach Rick Pitino.  A federal indictment for Adidas executive Jim Gatto possibly shows that Pitino knew about the Cardinals paying star recruit Brian Bowen and may have even been involved.  Pitino told ESPN in an interview last month that he had no idea about anything out of the ordinary.  He was fired last month.