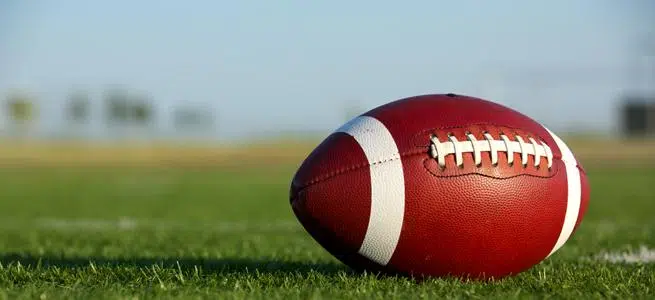 >>NFC East Shines Besides Giants
(Undated)  —  It was a day of mostly highs for the NFC East.  Dak Prescott accounted for three touchdowns in the Cowboys' 28-17 win over the Chiefs at AT&T Stadium.  The Redskins went into Seattle and defeated the Seahawks 17-14, while the Eagles pounded the Broncos 51-23 at home.  Why only mostly?  The Rams hammered the Giants, 51-17, in East Rutherford.  New York has fallen to 1-and-7.
>>Suspensions Likely Coming Following Brawl In Bengals-Jaguars Game
(Jacksonville, FL)  —  Suspensions are likely coming after a brawl broke out during Sunday's game between the Bengals and Jaguars in Jacksonville.  Cincinnati wide receiver A.J. Green and Jags cornerback Jalen Ramsey were both ejected just before halftime after getting into a fight, which led to pushing and shoving between the teams for several minutes before officials got things under control.
>>Hilton, Colts Knock Off Texans
(Houston, TX)  —  T.Y. Hilton had a monster game as the Colts knocked off the Texans, 20-14, in Houston.  Hilton caught five passes for 175 yards and two touchdowns, including scores of 45 and 80 yards.  Jacoby Brissett finished with 308 passing yards as Indy used its two big plays to end a three-game losing streak.  Jabaal Sheard secured the win with a strip-sack of Houston quarterback Tom Savage on the game's final play.  The Colts host the Steelers next week.
>>Report: Bears Miller To Leave Hospital
(Chicago, IL)  —  Some good news is here for Bears tight end Zach Miller.  According to ESPN, he is expected to be able to leave the hospital today.  Miller still has to have multiple surgeries, but his left leg has been stabilized after a procedure to fix a torn popliteal artery.  The injuries occurred against the Saints.
>>Packers Take On Lions For MNF
(Green Bay, WI)  —  The Packers hit the field without Aaron Rodgers again when they host the Lions tonight on "Monday Night Football."  Green Bay lost to the Saints 26-17 last week with Brett Hundley at the helm.  The Packers are 4-and-3.  Detroit comes in at 3-and-4.
>>Canadiens Blank Blackhawks
(Chicago, IL)  —  Charlie Lindgren turned away 38 shots as the Canadiens shutout the Blackhawks 2-0 at the United Center.  Corey Crawford gave up two goals in the first eight minutes of the third period.  Chicago had a two-game winning streak end to send them to 7-6-and-2.  They're at the Flyers on Thursday.
>>Illinois Drops Seventh Straight At Purdue
(West Lafayette, IN)  —  Illinois' losing streak is now at seven.  The Fighting Illini fell 29-10 Saturday at Purdue.  Illinois was tied at 10 just before the half before the Boilermakers pulled away.  The Illini are 2-and-7 overall and 0-and-6 in Big Ten play.  They host Indiana this Saturday.
>>Harvick Wins Texas Race
(Fort Worth, TX)  —  Kevin Harvick picked up a win in the Triple-A Texas 500 at Texas Motor Speedway.  He passed Martin Truex Junior with 10 laps remaining to clinch a spot in the NASCAR "Championship Four" race at Homestead.  Truex also earned a championship berth and Martinsville winner Kyle Busch has qualified. The NASCAR playoffs moves to Phoenix next weekend with five drivers battling for the final spot.