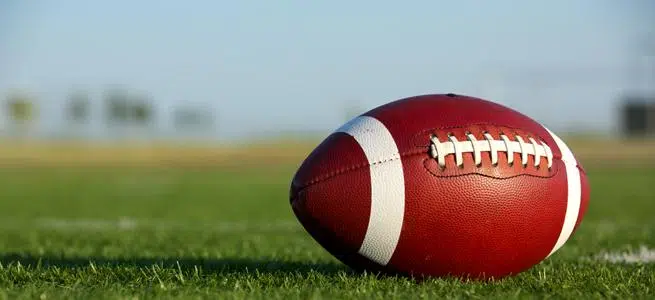 >>Rookie Jackson Shines As Bears Thump Panthers
(Chicago, IL)  —  Rookie safety Eddie Jackson became the first NFL player with two defensive touchdowns longer than 75 yards in a single game, as the Bears thumped the Panthers 17-3 in Chicago.  Jackson recovered a fumble in the first quarter and returned it 75 yards for a score.  He then intercepted a tipped Cam Newton pass in the second quarter and took it 76 yards to the house. The Bears improved to 3-and-4 and are at the Saints on Sunday.
>>Jaguars Shut Out Colts
(Indianapolis IN)  —  The Jaguars logged their first shutout since 2006 as they stopped the Colts 27-0 in Indianapolis.  Quarterback Jacoby Brissett was sacked 10 times, the most since the franchise relocated to Indianapolis.  Frank Gore was limited to 34 yards on nine carries.  The Colts had not been shut out since 2003.  They dropped to 2-and-5 and are last in the division.
>>Falcons Foiled By Patriots Again
(Foxboro, MA)  —  The Falcons were no match for the Patriots this time, losing 23-7 on "Sunday Night Football" in Foxboro.  Atlanta was shut out in the Super Bowl rematch until Matt Ryan's one-yard TD toss to Julio Jones with just over four minutes to play.
>>Astros Visit Dodgers Tomorrow To Open World Series
(Houston, TX)  —  The American League champion Astros visit the Los Angeles Dodgers tomorrow for Game One of the World Series.  Houston won its first American League pennant on Saturday with a 4-0 Game Seven win over the Yankees.  Justin Verlander was named MVP of the American League Championship series.  Games One and Two are in L.A. before the series shifts back to Houston for Games Three through Five.  If necessary, Games Six and Seven will be in L.A.
>>College Football Roundup
(Undated)  —  In local college football action on Saturday, Notre Dame made a big statement with a 49-14 win over rival USC at home.  The Fighting Irish are 6-and-1.  Illinois stayed winless in Big Ten play with a 24-17 loss to Minnesota.  The Fighting Illini are 2-and-5 and 0-and-4.  Northwestern defeated Iowa, 17-10, in OT to improve to 4-and-3 and 2-and-2 in the Big Ten.
>>Truex Wins At Kansas Speedway
(Kansas City, KS)  —  Martin Truex Junior is the champion at the Hollywood Casino 400 at Kansas Speedway.  Truex survived a restart penalty to pick up his seventh Monster Energy NASCAR Cup Series win of the season.  Kurt Busch finished second and Ryan Blaney third.  Kyle Larson, who was second in points heading in, blew an engine and was eliminated from championship contention.  Matt Kenseth, Jamie McMurray and Ricky Stenhouse Junior were also eliminated from the playoffs in the final Round-of-12 race.  The Round-of-Eight begins next Sunday at Martinsville.
Coming up this Saturday afternoon on The Talk 101 High School Game of the Week presented by Landmark of Taylorville, the MacArthur Generals play host to Peoria Notre Dame in the opening round of the IHSA Class 5A Football Playoffs.  The Dale's Southlake Pharmacy Pregame Show gets underway at 2:30p.m. and the kickoff follows at 3:00p.m.  Join Scott Busboom and Kevin Hale live with the call this Saturday afternoon on Talk 101FM!