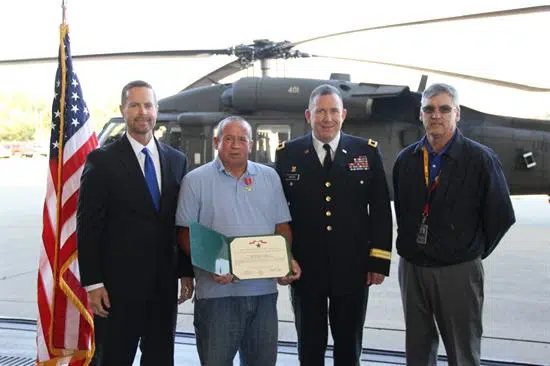 Decatur, IL — U.S. Rep. Rodney Davis (R-Ill.) yesterday, at the Army Aviation Support Facility (AASF) in Decatur, presented Retired United States Army Staff Sergeant Kenneth D. Carlock (Ret.) of Coffeen, IL the Bronze Star for his meritorious service during combat operations in the Vietnam War. Carlock, who served in Vietnam as an artillery forward observer nearly 50 years ago, was never formally recommended for the Bronze Star. Davis' office worked with the U.S. Army for more than two years to finally present Carlock with the recognition he deserves.

"As someone who was born during the Vietnam War, what I know about that time came from the history books so it's my honor to be able to recognize the bravery and service of Army Staff Sergeant Ken Carlock," said Davis. "Staff Sergeant Carlock risked his life for our country and saved the lives of many who served beside him. Helping Ken and other Vietnam veterans receive the honors that are long overdue is something my office is proud of. We have an opportunity to right some of the wrongs that prevented many of our servicemembers during that era from receiving the recognition and appreciation they deserve."

Davis was joined by Major General Richard J. Hayes, Jr. the Adjutant General of the Illinois National Guard.

"It's an honor for me to be here today to recognize Ken and the great work
he did as a field artillery forward observer," said Hayes. "In Vietnam, field artillery observers were on the front lines and were among those with the highest casualty rates during the war and for Ken to make it through all of that speaks a lot about his courage, but also speaks a lot about how he did his job."

From August 31, 1971 to March 5, 1972, Carlock served as an artillery forward observer where he advised the commander on artillery fire support. The troop Carlock served operated in heavily mined areas and enemy base camps protected by booby-traps and security forces. Click here for more information about Carlock's service and Bronze Star recommendation.