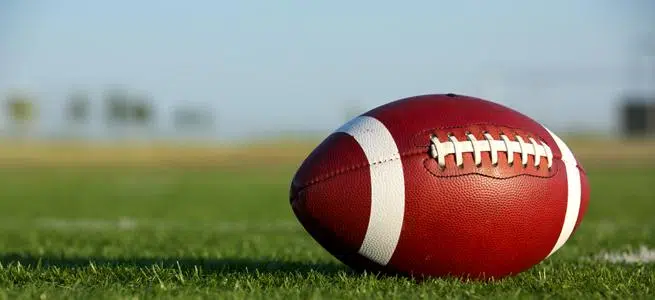 >>Bears Benching Glennon In Favor Of Trubisky
(Lake Forest, IL)  —  The Bears are making a change at quarterback.  Head coach John Fox announced they're benching Mike Glennon in favor of rookie Mitchell Trubisky for next Monday night's game against the Vikings in Chicago.  Glennon had four turnovers in Thursday night's 35-14 loss at Green Bay.  Chicago is 1-and-3 on the season.
>>Players React To Vegas Shootings
(Undated)  —  Athletes across sports are tweeting their sorrow and prayers in the aftermath of the mass shooting in Las Vegas.  Natives and Nationals outfielder Bryce Harper, NASCAR driver Kyle Busch and Titans running back DeMarco Murray were just some to express their condolences in the wake of the tragedy that left more than 50 dead.
>>Chiefs Outlast Washington To Stay Unbeaten
(Kansas City, MO)  —  The Chiefs are still unbeaten after outlasting Washington, 29-20, on "Monday Night Football".  Alex Smith threw for 293 yards and a touchdown for 4-and-0 Kansas City, which is the last remaining undefeated team in the NFL.  Washington dropped to 2-and-2.
>>Raiders' Carr Out 2-to-6 Weeks
(Alameda, CA)  —  The Raiders will be without starting quarterback Derek Carr for a while.  Head coach Jack Del Rio says Carr will miss two-to-six weeks with a transverse process fracture in his back.  EJ Manuel will be under center in place of Carr, who was hurt in Sunday's loss to the Broncos.  Oakland is 2-and-2.
>>Twins Take On Yankees In AL Wild Card Game
(Bronx, NY)  —  The Twins take on the Yankees in the American League wild card game tonight at Yankee Stadium.  Led by rookie slugger Aaron Judge, the Yankees captured the top AL wild card with a 91-and-71 record.  The Twins claimed the second wild card spot at 85-and-77, just one year after losing 103 games.
>>Cubs Preparing For Nationals
(Washington, DC)  —  The Cubs are preparing for their National League Division Series against the Nationals.  Game One of the best-of-five set is Friday in Washington.  The Nats will also host Game Two on Saturday before the series shifts to Wrigley Field on Monday.
>>George Jr. Takes Over For Illinois
(Champaign, IL)  —  Jeff George Jr. is the new starting quarterback at Illinois.  George Jr. replaces Chayce Crouch, who threw for only 99 yards in last week's loss to Nebraska.  George Jr. will be under center with the Illini face Iowa on Saturday.
Coming up Friday Night on Talk 101, it's the Talk 101 High School Game of the Week presented by Landmark of Taylorville as the MacArthur Generals play host to Springfield Southeast.  The Dale's Southlake Pharmacy Pregame Show gets underway at 6:30p.m. and the kickoff follows at 7:00p.m.  Join Scott Busboom and Kevin Hale with the call Friday night on Talk 101!