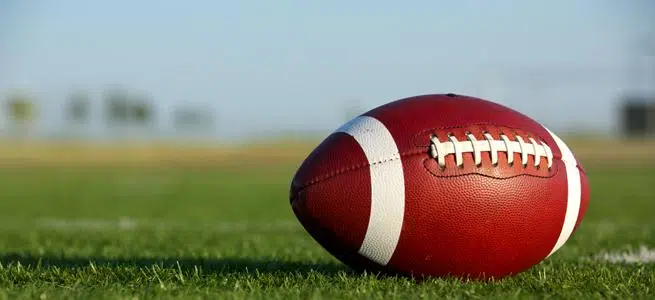 >>NFL Upholds Elliott's Six-Game Suspension
(New York, NY)  —  An NFL arbitrator is upholding the six-game suspension against Cowboys running back Ezekiel Elliott.  However, multiple reports say he'll still be allowed to play in Sunday night's season opener against the Giants because of the lateness of the appeal ruling.  Elliott was suspended six games for violating the league's personal-conduct policy.
>>Bucs-Dolphins Game Will Not Be Played Sunday In Miami Due To Irma
(Miami, FL)  —  Hurricane Irma is forcing the NFL to move Sunday's regular-season opener between the Buccaneers and Dolphins in Miami.  The league is still trying to decide where and when the game will be played.  It could be moved to a neutral location or be played in Miami later this season.
>>Martinez Leads Cardinals Past Padres
(San Diego, CA)  —  Jose Martinez went 3-for-3 with two home runs and three RBI to lead the Cardinals to an 8-4 win over the Padres at Petco Park.  Harrison Bader added a three-run shot for St. Louis, which has won three in-a-row and five of its last six games.  Michael Wacha pitched six innings of four-run ball for his 11th win.
>>Cubs Lose Late To Pirates
(Pittsburgh, PA)  —  Carl Edwards Jr. gave up a pair of run-scoring singles in the bottom of the eighth inning as the Cubs lost 4-3 to the Pirates in Pittsburgh.  Ian Happ's two-run single in the third had put Chicago ahead 3-2.  The Cubs still lead the Brewers by three-and-a-half games in the NL Central.  They continue their series in Pittsburgh tonight.
>>Arrieta Expected To Miss Next Start
(Pittsburgh, PA)  —  Cubs pitcher Jake Arrieta says he expects one or two starts due to a hamstring injury.  An MRI showed a Grade One hamstring strain for Arrieta, who had to leave Monday's game against the Pirates with the injury.  Arrieta was named NL Pitcher of the Month in August after posting a 1.21 ERA.
>>Indians Defeat White Sox For 13th Straight Win
(Chicago, IL)  —  The Indians piled up a 13th straight win behind two home runs from Jose Ramirez in their 9-4 victory at the White Sox.  Chicago had taken a 4-3 lead in the bottom of the first on a Matt Davidson three-run blast.  David Holmberg was tagged with the loss.
>>Red Sox Admit To Stealing Signs Electronically
(Boston, MA)  —  The Red Sox are admitting to stealing signs.  The "New York Times" reports the Red Sox are accused of using electronic communication to steal signs and relay them to players during games.  Yankees GM Brian Cashman gave the league video of what they say was a Red Sox trainer looking at his Apple Watch and then relaying information to players during a series in Boston.
>>Indians Top White Sox For 13th Straight Win
(Chicago, IL)  —  The defending American League champions keep on rolling.  The Indians ran their winning streak to 13 games with a 9-4 victory over the White Sox in Chicago.  Jose Ramirez homered twice for Cleveland, which is riding the longest winning streak in the majors this season.  Arizona beat the Dodgers last night in LA for its 12th straight win.
>>Colts Open Season Sunday In LA
(Indianapolis, IN)  —  The Colts open up the regular season on Sunday against the Rams in Los Angeles.  Indy is looking to rebound from last year's 8-and-8 record and third-place finish in the AFC South.  Scott Tolzien will start in place of Andrew Luck under center.  Luck missed the entire preseason while recovering from offseason shoulder surgery.  He is currently listed as week-to-week.
>>Bears Preparing For Season Opener
(Lake Forest, IL)  —  The Bears are preparing for Sunday's season opener against the Falcons.  Chicago is looking to bounce back from last year's 3-and-13 finish.  Mike Glennon is set to make his first start under center for Chicago on Sunday.  Head coach John Fox has yet to name a backup quarterback.
>>Illinois Hosts Western Kentucky Saturday
(Champaign, IL)  —  Illinois collides with Western Kentucky in Champaign on Saturday.  The Illini pulled out a 24-21 home win over Ball State in their season opener last Saturday.  Meanwhile, Northwestern will be on the road to face Duke, while Notre Dame clashes with 15th-ranked Georgia.
>>Venus Reaches U.S. Open Semifinals
(Flushing, NY)  —  Ninth-seeded American Venus Williams is moving on to the semifinals at the U.S. Open.  The 37-year-old outlasted 13th-seeded Petra Kvitova in three sets in their quarterfinal matchup.  The two-time U.S. Open champ will play fellow American Sloane Stephens next.  Seventeenth-seeded American Sam Querrey lost in four sets to 28th-seeded Kevin Anderson.
Coming up both Friday Night, and Saturday Night on Talk 101, it's the Talk 101 High School Game of the Week presented by Landmark of Taylorville as the Eisenhower Panthers play host to Jacksonville.  Then, Saturday night, the MacArthur Generals are on the road against Springfield High.  Both nights, the Dale's Southlake Pharmacy Pregame Show gets underway at 6:30p.m. and the kickoff follows at 7:00p.m.  Join Scott Busboom and Kevin Hale with the call, Friday night, and Saturday night on Talk 101!