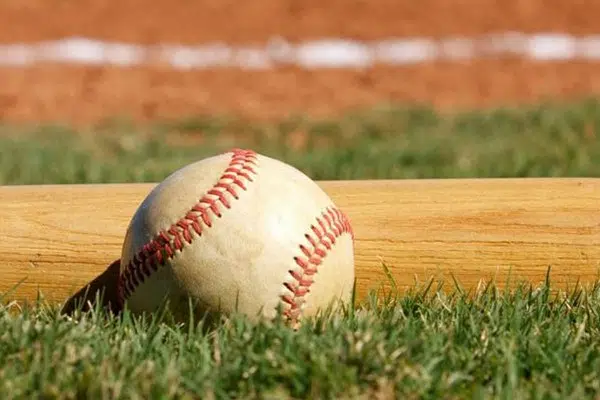 >>Cardinals No Match For Harper, Nationals
(St. Louis, MO)  —  Carlos Martinez served up a pair of two-run homers to Bryce Harper as the Cardinals lost 7-2 to the Nationals at Busch Stadium.  Max Scherzer held the Cards to just two hits while striking out 12 in seven innings for his 10th win.  Tommy Pham homered in the eighth for St. Louis.
>>Happ Powers Cubs Past Reds
(Cincinnati, OH)  —  Ian Happ went 3-for-4 with two home runs to power the Cubs to a 6-2 win at Cincinnati.  Jake Arrieta pitched seven innings of one-hit ball for his eighth win.  Chicago is second in the NL Central at 41-and-41, two games behind Milwaukee.  The Cubs host the Rays tomorrow.
>>White Sox Trim Rangers In Rubber Match
(Chicago, IL)  —  Yolmer Sanchez's two-run homer in the bottom of the eighth powered the White Sox to a 6-5 win over the Rangers in Chicago.  Melky Cabrera also went deep to help the Sox take the rubber match of the three-game set.  David Robertson got the final five outs for his fourth win.
>>Harper, Judge Headline All-Stars
(Undated)  —  Yankees slugger Aaron Judge and Nationals outfielder Bryce Harper headline this year's MLB All-Stars.  Judge received the most votes in the American League, while Harper tallied the most in the National League.  The Nationals and Astros have three starters apiece in this year's Midsummer Classic, which is July 11 in Miami.
>>Cardinals' Molina, Martinez Selected To NL All-Star Team
(New York, NY)  —  Catcher Yadier Molina and pitcher Carlos Martinez will represent the Cardinals at next week's All-Star Game in Miami.  Roster were revealed last night and both were selected to the National League squad.  It will be the eighth All-Star appearance for Molina and the second for Martinez.
>>Davis, Garcia Named To All-Star Teams
(Undated)  —  Cubs closer Wade Davis and White Sox outfielder Avisail Garcia are going to the All-Star Game.  Davis and Garcia were named reserves for the NL and AL teams, respectively, yesterday.  Meanwhile, Cubs star Kris Bryant is part of the NL's Final Vote.  The National League will be managed by Joe Maddon.
>>Raptors Re-Sign Lowry To Three-Year Deal
(Toronto, Ontario)  —  Kyle Lowry is staying in Toronto.  Multiple outlets report the Raptors have re-signed Lowry to a three-year, 100-million-dollar contract.  Lowry averaged a career-high 22.4 points in 60 games last season.  Meanwhile, the Raptors also reportedly re-signed forward Serge Ibaka.
>>Hayward To Meet With Jazz
(Salt Lake City, UT)  —  Gordon Hayward is set to sit down with the Jazz today.  The star free agent met with the Heat and Celtics over the weekend.  The "Salt Lake Tribune" reports Hayward hopes to make a decision on where he will play next season by Tuesday or Wednesday.
>>Stenhouse Victorious At Daytona
(Daytona Beach, FL)  —  Ricky Stenhouse Jr. outlasted the pack in a wreck-filled race to win the Coke Zero 400 at Daytona International Speedway Saturday night.  Clint Bowyer finished in second place and Paul Menard came in third.  Michael McDowell and Ryan Newman rounded out the top five.
>>Stanley Beats Howell In Playoff To Win Quicken Loans National
(Potomac, MD)  —  Kyle Stanley beat Charles Howell the Third in a playoff to win the Quicken Loans National at TPC Potomac in Maryland.  Stanley parred the first playoff hole to capture his first PGA Tour win since 2012.  Howell hasn't won a PGA event since 2007.