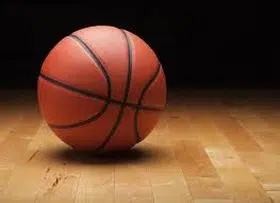 >>LeBron Passes Kareem As Cavs Crush Raptors
(Cleveland, OH)  —  The Cavaliers remain unbeaten in this year's NBA playoffs.  LeBron James scored 39 points to lead Cleveland to a 125-103 win over the Raptors in Game Two of their second-round series in Cleveland.  James also passed Kareem Abdul-Jabbar for second on the all-time playoff scoring list.
>>Spurs Get Even With Rockets
(San Antonio, TX)  —  The West semifinal series between the Rockets and Spurs is all tied up.  San Antonio bounced back from a blowout loss in Game One for a 121-96 rout of Houston.  The win came at a cost as starting point guard Tony Parker suffered what could potentially be a serious knee injury.
>>Royals Quiet White Sox Behind Karns
(Kansas City, MO)  —  Nate Karns and two relievers combined on a two-hitter as the Royals beat the White Sox 6-1 at Kauffman Stadium. Mike Pelfrey gave up three runs in five-and-a-third innings to take the loss.  Jose Abreu broke up the shutout with a solo homer in the ninth for Chicago.
>>Cardinals, Brewers Rained Out; Today's Game Pushed Back
(St. Louis, MO)  —  The Cardinals and Brewers were rained out last night at Busch Stadium.  No makeup date has yet been announced.  Meanwhile, the team is pushing back today's game against Milwaukee from 12:45 p.m. to 6:15 p.m. due to weather.  The Cardinals will play at Atlanta tomorrow.
>>Cubs Get Past Phils With Four-Run Sixth
(Chicago, IL)  —  Willson Contreras drove in the go-ahead runs with a pinch-hit double in a four-run sixth inning as the Cubs beat the Phillies 5-4 in Chicago.  Jake Arrieta pitched six innings of three-run ball to move to 4-and-1.  Wade Davis posted his seventh save.  The finale of the four-game series is today.
>>Cubs Trophy Repaired After Weekend Damage
(Chicago, IL)  —  The Cubs are admitting that their new World Series trophy had to be repaired after it was slightly damaged during a benefit concert over the weekend in Boston.  The trophy was being passed around during the charity concert put on by Cubs President Theo Epstein.  A few of the 30 flags on the trophy had to be repaired.
>>Police Investigating After Woman Grazed By Stray Bullet At Busch
(St. Louis, MO)  —  Police are investigating after a woman was grazed by a stray bullet at Busch Stadium on Tuesday.  The 34-year-old woman was treated and released at First Aid after feeling a pain in her arm.  Police later found a bullet near her seat.  They believe it came from outside the stadium.
>>Red Sox Double Up O's Amid More Drama
(Boston, MA)  —  The drama involving the Red Sox and Orioles continues.  O's starter Kevin Gausman was ejected after hitting Xander Bogaerts with an off-speed pitch in the second inning of Boston's 4-2 win last night.  Baltimore's Adam Jones was also tossed in the fifth for arguing balls and strikes.  The contentious four-game set ends tonight at Fenway Park.
>>Blues Host Preds In Do-Or-Die Game Five Tomorrow
(St. Louis, MO)  —  The Blues have one more day to get ready for a do-or-die playoff game.  The host the Predators in Game Five of their second-round series tomorrow night at Scottrade Center.  St. Louis is on the brink of elimination, trailing the series 3-1.  Nashville would host a Game Six on Sunday.
>>Classic Empire Early Kentucky Derby Favorite
(Louisville, KY)  —  Classic Empire is the morning-line favorite for Saturday's Kentucky Derby.  Classic Empire has been installed as a 4-to-1 favorite for the 143rd "Run for the Roses" at Churchill Downs.  The colt will break from gate 14 in the 20-horse field.  Always Dreaming and McCraken are both listed at 5-to-1.
>>Romo Attempting To Qualify For U.S. Open
(Aledo, TX)  —  Former Cowboys star Tony Romo is going from the football field to the golf course.  The retired quarterback is one of more than nine-thousand players that will attempt to qualify for the U.S. Open.  Romo will play in a local qualifier in Texas on Monday.