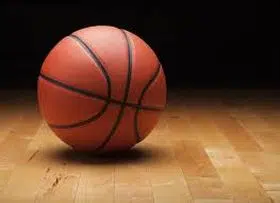 >>Northwestern Wins First-Ever NCAA Tournament Game
(Salt Lake City, UT)  —  Northwestern is moving on to the second round of the NCAA Tournament.  The Wildcats escaped with a dramatic 68-66 win over Vanderbilt in West Regional play.  It was Northwestern's first-ever NCAA Tournament game in the 112-year history of the program.
>>Gonzaga, Villanova Win Tourney Openers
(Undated)  —  Elsewhere in the NCAA Tournament, top-seeded Gonzaga slammed South Dakota State 66-46.  Defending national champion Villanova overcame a slow start for a 76-56 victory over Mount St. Mary's.  Fellow number-one seeds Kansas and North Carolina are in action today.
>>#5 Notre Dame Holds On Against #12 Princeton
(Buffalo, NY)  —  Bonzie Colson led all scorers with 18 points and fifth-seeded Notre Dame held on to beat 12th-seeded Princeton 60-58 in a West Region matchup in Buffalo.  Matt Ferrell added 16 points for the Fighting Irish, who move on to play West Virginia tomorrow.
>>Blues Cruise Past Sharks
(San Jose, CA)  —  Vladimir Tarasenko tallied twice in the third period as the Blues pulled away for a 4-1 win at San Jose.  Scottie Upshall and Zach Sanford also scored for St. Louis, which has won six-of-seven.  The Blues hold the second wild card in the West with 79 points.  They skate in Arizona tomorrow.
>>Blackhawks Clip Senators
(Ottawa, Ontario)  —  Richard Panik's power-play goal with 3:01 left in regulation lifted the Blackhawks past the Senators 2-1 in Ottawa.  Duncan Keith broke a scoreless tie with just under 12 minutes remaining in the final period.  Chicago has won three-straight and 10-of-12 overall.  The 'Hawks visit the Maple Leafs tomorrow night.
>>Bulls' Wade Out For Regular-Season With Elbow Fracture
(Chicago, IL)  —   Bulls guard Dwyane Wade is out for the rest of the regular season with a sprain and small fracture in his right elbow.  Wade suffered the injury in Wednesday's loss to Memphis.  The 35-year-old is averaging 18.6 points, 4.5 rebounds and 3.9 assists in 57 games this season, his first in his hometown of Chicago after 13 years with the Heat.
>>Cactus League Roundup
(Undated)  —  In Cactus League play yesterday, the Cubs blanked the Dodgers, 4-0.  Eddie Butler tossed four innings of one-hit ball in the victory.  The White Sox had the day off, but host the Cubs this afternoon.
>>Cardinals Trim Twins With Run In Ninth
(Jupiter, FL)  —  Randal Grichuk singled in the winning run in the bottom of the ninth inning as the Cardinals trimmed the Twins 2-1 in Jupiter.  Jeff Gyorko mashed his second home run of the spring for St. Louis, which is 12-and-5 in Grapefruit League play.  The Cardinals will visit the Mets today.
>>Vikings GM:  Peterson's Time With Team Over
(Eden Prairie, MN)  —  Adrian Peterson's days with the Vikings are over.  General manager Rick Spielman says "A.P." won't return to Minnesota after the team signed running back Latavius Murray to a three-year deal.  Peterson rushed for 11,747 yards and 97 touchdowns in 123 career games with the Vikings.
>>Marlins' Fernandez Was Boat Operator In Deadly Crash
(Miami, FL)  —  The investigation into last September's deadly boat crash involving Marlins pitcher Jose Fernandez and two friends is complete.  The Florida Fish and Wildlife Conservation Commission has concluded that Fernandez was the driver of the boat and both alcohol and drugs were involved.  Fernandez was 24 years old.
>>Illinois Hosts Boise State In NIT Second Round Monday
(Champaign, IL)  —  Illinois has the weekend to prepare for its second-round game in the NIT.  The second-seeded Fighting Illini will host sixth-seeded Boise State on Monday.  Illinois advanced with an 82-57 home win over Valparaiso on Tuesday.  The Broncos knocked off Utah 73-68 in their first-round matchup.