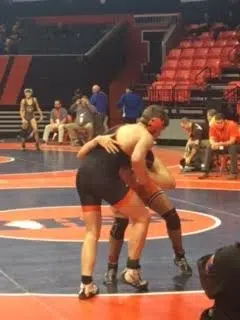 Class 2A rolled right into their quarterfinal and wrestle back matches at the IHSA State Wrestling Tournament in Champaign after the conclusion of the 1A session this morning.
Mahomet-Seymour continues to wrestle well as they have three out of their four wrestlers still in contention after this mornings 2A session. Three time state qualifier Hunter Crowley at 195 pounds won his quarterfinal match 10-4 over Seamus O'Donnell of Crystal Lake Central to move into tonight's semifinal match at 195 pounds against Eric Brenner of Oak Forest. Teammates David Spencer at 126 pounds and David Griffet at 220 pounds won their wrestle back to stay alive in the tournament.
Senior Trevor Edwards of Mattoon at 113 pounds used a flurry of takedowns and high powered offense to win by technical fall over Rafael Nunoz of Ottawa to stay undefeated on the year and he will face Zeke Hulet of Washington in the semifinals tonight. Garrette Branson entered his quarterfinal match at 220 pounds undefeated but suffered his first loss of the season in tiebreaker overtime to Scott Sierzega of Chicago Brother Rice 7-2. Branson rebounded with a win in his wrestle back to continues his hopes of a podium spot at 220 pounds. Mattoon's other two qualifiers Hayden Stanley and Jayvin Quinn saw their state tournament run come to an end after morning session loses.
Heavyweight Caleb Guise of Eisenhower was unable to get a wrestle back after his first round loss to James Valentino of Arlington Heights. Mt. Zion wrestlers Payton Mahan and Tyler Bennett were also unable to get wrestle back matches after their first round loses last night.
Taylorville qualified two wrestlers for this year's tournament as Heath Fleming and Mike Nelson saw their tournament run come to end on Friday morning.
IHSA State wrestling continues throughout the day with Class 3A action and tonight will all classes competing in the semifinals inside the State Farm Center in Champaign.