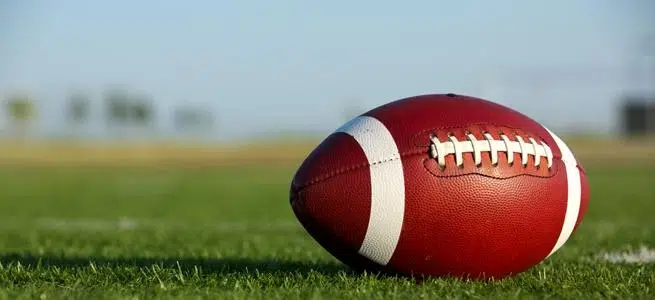 >>Clemson Wins National Championship
(Tampa, FL)  —  Clemson is celebrating a national championship.  The second-ranked Tigers defeated number-one Alabama 35-31 in a thrilling College Football Playoff National Championship Game in Tampa.  Hunter Renfrow's two-yard touchdown catch with one second left in the fourth quarter gave the Tigers their first national title since 1981.
>>Colts Sign CFL Standout
(Indianapolis, IN)  —  The Colts aren't waiting for free agency to address their historically bad defense.  Indy went north of the border to sign Canadian Football League standout Alex Bazzie.  Listed at 6-1 and 228-pounds Bazzie is undersized but was fourth in the CFL with 11-sacks last season.  The 26-year old pass rusher played his college ball at Marshall and was with the BC Lions in Canada.
>>Jags Name Marrone Head Coach
(Jacksonville, FL)  —  Doug Marrone is the head coach of the Jaguars.  Jacksonville removed the interim tag and named Marrone the full-time head man yesterday.  Meanwhile, former head coach Tom Coughlin has been installed as executive vice president of football operations.
>>Steelers Place Porter On Leave
(Pittsburgh, PA)  — Steelers assistant coach Joey Porter is being placed on leave after being arrested outside a bar Sunday night.  Porter was booked on several charges, including aggravated assault, just hours after a playoff win over Miami.  The Steelers face the Chiefs in the Divisional Round this Sunday.
>>Bulls No Match For Thunder
(Chicago, IL)  —  Russell Westbrook's 21 points, nine rebounds and 14 assists led the Thunder to a 109-94 rout of the Bulls.  Jimmy Butler had only one point in 29 minutes before being sent home with an illness.  Chicago's three-game winning streak came to an end with the loss.  The 19-and-19 Bulls are right back in action tonight against the Wizards in DC.
>>Bulls' Butler Wins Weekly Honor
(Chicago, IL)  —  Bulls star Jimmy Butler is the Eastern Conference Player of the Week.  Butler averaged an NBA-best 38 points while leading the Bulls to a 3-and-0 record last week.  Butler also posted 9.3 rebounds and 6.3 assists per game.
>>Baylor Takes Over Top Spot In Hoops Poll
(Undated)  —  There's a new number-one in college basketball.  Unbeaten Baylor has taken over the top spot in this week's "USA Today" poll.  Kansas is second, followed by previously top-ranked Villanova.  UCLA and Gonzaga round out the top-five.
>>Illinois Hosts Michigan Tomorrow
(Champaign, IL)  —  Illinois is back home tomorrow night hosting Michigan at the State Farm Center.  The Fighting Illini fell 96-80 at 25th-ranked Indiana on Saturday.  Illinois has lost two-of-three and is now 11-and-5 overall and 1-and-2 in the Big Ten.  The Wolverines are also 11-and-5 and 1-and-2.