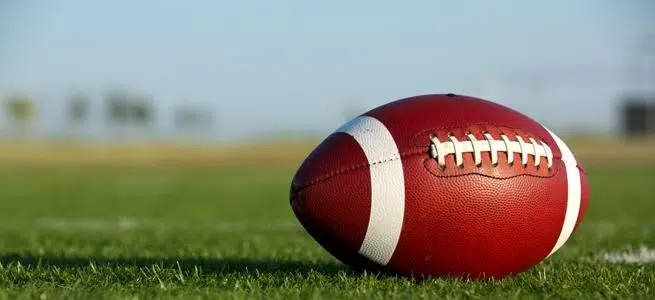 Texans Defense Rattles Cook, Raiders
(Houston, TX)  —  The Texans' defense rattled Raiders' rookie quarterback Connor Cook all day as they earned a 27-14 win in AFC Wild Card action in Houston.  The Texans picked off Cook three times and sacked him three times as Oakland's offensive line struggled without Pro Bowl tackle Donald Penn, who missed his first career game with a knee injury.  Brock Osweiler threw a touchdown and Lamar Miller ran for one as the Texans improved to 8-and-1 at home.  Bill O'Brien also notched his first playoff win as Houston's head coach.  Cook was 18-of-45 for 161 yards, a TD and three picks for Oakland.  The Raiders lost in their first postseason game since 2002.
Seahawks Stuff Lions In NFC Wild Card
(Seattle, WA)  —  Thomas Rawls set the Seahawks single-game playoff rushing record as they stuffed the Lions, 26-6, in Seattle.  Rawls piled up 161 yards on 27 carries with a touchdown.  Russell Wilson threw for 224 yards and two scores as the Seahawks used a stingy defense and punishing run game to advance to the NFC Divisional Playoff round for the fifth straight season.  Doug Baldwin caught 11 passes for 104 yards and a score and Paul Richardson made a highlight TD-catch as Seattle moves on to face Atlanta next Saturday.  Matthew Stafford was 18-of-32 for 205 yards and took three sacks for Detroit.  The Lions haven't won a playoff game since 1992 and haven't won a road playoff game since 1957.
Kings Dump Wild In OT
(Los Angeles, CA)  —  Tanner Pearson netted the winning goal in overtime as the Kings dumped the Wild, 4-3, in Los Angeles.  Jeff Carter, Marian Gaborik and Jake Muzzin also found the back of the net as the Kings bounced back from a shutout loss to Detroit on Thursday.  Peter Budaj made 21 saves for L.A, which improved to 20-16-and-4.  Zach Parise tied the game with 43 seconds left in regulation for Minnesota.  Mikko Koivu and Charlie Coyle gave the Wild an early 2-0 lead as they fell to 24-9-and-5.
Capitals Blank Senators
(Ottawa, Ontario)  —  T.J. Oshie scored the game's lone goal as the Capitals blanked the Senators, 1-0, in Ottawa.  Oshie's goal came in the first period and Braden Holtby made 30 saves for the Caps.  Washington is riding a five-game win streak.  The Senators were 0-for-3 on power plays in the loss.  Ottawa has lost four straight games, with the past two coming against Washington.
Marchand, Bruins Blank Panthers
(Sunrise, FL)  —  Brad Marchand scored twice as the Bruins blanked the Panthers, 4-0, at the BB&T Center.  Tuukka Rask stopped all 25 shots sent his way for Boston, which ended a two-game slide.  David Backes and Riley Nash also scored in the win.  James Reimer gave up all four goals on 37 shots for Florida.  The Panthers were 0-for-3 on the power play in their sixth loss in eight games.
Rangers Late Goal Clips Blue Jackets
(Columbus, OH)  —  Michael Grabner scored with 17-seconds left in regulation to lift the Rangers past the Blue Jackets 5-4 in Columbus.  Grabner also lit the lamp in the second-period and assisted on Oscar Lindberg's first-period goal.  Adam Clendening found the back of the net twice in the final period.  The Rangers have won five-of-six and improved to 28-13-and-1.  The Blue Jackets have lost two straight following their 16-game winning streak.  Markus Nutivaar, Cam Atkinson, Scott Hartnell, and Lukas Sedlak scored in defeat.
Oilers Clip Devils In Overtime
(Newark, NJ)  —  Mark Letestu lit the lamp in overtime to lift the Oilers past the Devils 2-1 in Newark.  Matthew Benning's first NHL goal tied the game up in the third-period as Edmonton won its second-straight.  Cam Talbot made 19-of-20 saves in the winning effort. The Oilers improved to 21-13-and-7.  Miles Wood scored the lone New Jersey goal in defeat.  Cory Schneider made 41 saves, the Devils lost at home for the second day in a row.
Blues Hold Off Stars
(St. Louis, MO)  —  Patrik Berglund netted the winning goal with less than two minutes remaining as the Blues held off the Stars, 4-3, in St. Louis.  Paul Stasny scored a pair of goals and Vladamir Tarasenko scored his 20th goal for the Blues.  Carter Hutton finished with 25 saves as St. Louis.  Lauri Korpikoski notched a goal and assist for Dallas.  The Stars have dropped three straight games.
Coyotes Clip Islanders In Shootout
(Glendale, AZ)  —  Radim Vrbata scored the deciding goal in the shootout to lift the Coyotes past the Islanders 2-1 in Glendale.  Anthony Duclair was also successful on his shootout attempt and Louis Domingue closed the door on the game and Arizona's nine-game slide.  Brendan Perlini found the back of the net to tie things up in regulation.  Domingue made 27 saves in the winning effort.  Alan Quine scored the lone New York goal in defeat.  Thomas Greiss made stopped 24 shots, the Islanders have lost three-of-four on this road trip.
Sharks Double-Up Red Wings
(San Jose, CA)  —  Joe Pavelski scored twice as the Sharks cruised past the Red Wings 6-3 at the SAP Center.  Patrick Marleau, Joonas Donskoi, and Mikkel Boedker also found the back of the net for San Jose.  Mirco Mueller scored his second career NHL goal and added an assist in the winning effort.  The Sharks snapped a three-game slide improving to 24-14-and-2 overall.  Thomas Vanek and Andreas Athanasiou had a goal and an assist apiece in defeat.  Detroit has lost five of its last eight contests.
Bulls Clip Raptors In Overtime
(Chicago, IL)  —  Jimmy Butler led the way with 42 points and 10 rebounds as the Bulls charged back to top the Raptors 123-118 in overtime at the United Center.  Chicago outscored Toronto 49-33 in the final quarter and OT to win its third straight.  Dwyane Wade finished with 20 points and dished out seven assists in the winning effort.  DeMar DeRozan paced the Raptors with 36 points in defeat.  Kyle Lowry added 27, 12-dimes, and nine boards but Toronto fell to 24-and-12.
Pacers Pound Knicks
(Indianapolis, IN)  —  The Pacers held a 26-point lead after three quarters as they pounded the Knicks, 123-109, at Bankers Life Fieldhouse.  Paul George and Jeff Teague keyed the effort with 19 points each.  Thaddeus Young added 16 points, nine boards and four steals as Indy moved to 20-and-18 overall and 15-and-5 on its home floor.  Carmelo Anthony and Brandon Jennings highlighted the Knicks with 17 points apiece.  New York has dropped seven of its past six games.
Spurs Sting Hornets
(San Antonio, TX)  —  Davis Bertans led all scorers with 21 points off the bench to help the Spurs cruise past the Hornets 102-85 at the AT&T Center.  Kawhi Leonard finished with 19 as San Antonio won for the 12th time in 14 games.  LaMarcus Aldridge dropped 15 with 11 rebounds and Dewayne Dedmon scored 15 with 10 boards in the winning effort.  The Spurs improved to 30-and-7 overall, 13-and-4 at home.  Kemba Walker paced Charlotte with 18 points in defeat.  The Hornets have lost four-of-five.
Jazz Nip Timberwolves
(Minneapolis, MN)  —  The Jazz erased an 11-point fourth-quarter deficit to nip the Timberwolves, 94-92, at the Target Center.  Rudy Gobert made the winning tip-in with 27 seconds left.  George Hill had 19 points and seven assists and Gobert finished with 12 points, 13 boards and four blocks.  Utah is 23-and-15.  The T-Wolves managed just a dozen fourth-quarter points in the loss.  Karl-Anthony Towns had 18 points and 15 boards for Minnesota.
Thunder Rock Nuggets
(Oklahoma City, OK)  —  Russell Westbrook compiled yet another triple-double as the Thunder rocked the Nuggets, 121-106, in OKC.  Westbrook finished with 32 points, 17 rebounds and 11 assists plus three steals as the Thunder pulled away in the second half.  OKC is 32-and-3 the past two season when Westbrook records a triple-double.  Wilson Chandler scored 24 points off the bench for Denver.  The Nuggets have lost five games in a row.
Hawks Hold Off Mavericks
(Atlanta, GA)  —  The Hawks enjoyed a solid three-point shooting night without the traded Kyle Korver as they held off the Mavericks, 97-82, in Dallas.  Tim Hardaway Junior was 5-of-8 from deep for 22 points to lead Atlanta.  As a team the Hawks made 11-of-22 from beyond the arc.  Dennis Schroder scored 20 as Atlanta moved to 21-and-16.  Harrison Barnes led lowly Dallas with 21 points.  The Mavs are 11-and-26 on the year.
Celtics Run Over Pelicans
(Boston, MA)  —  Isaiah Thomas piled up 38 points as the Celtics ran over the Pelicans, 117-108, in Boston.  Avery Bradley sat out with an Achilles injury, and Marcus Smart scored a season-high 22 points in his place.  The Celtics pulled away in the third quarter for their fourth straight win.  Anthony Davis powered his way to 36 points and 15 boards for New Orleans.  The Pelicans are on a three-game slide.