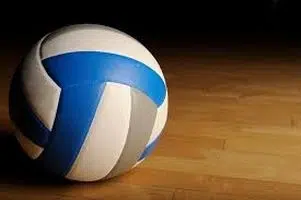 The regular season is almost over for most high school volleyball squads in the area, as a lot of teams finished up regular season play or conference play last night with the postseason right around the corner and starting next week for a lot of teams.
St. Teresa wrapped up Central Illinois Conference play on Thursday night with a straight sets win on the road against Warrensburg-Latham, 25-18, 25-14. The energy is high right now and the Bulldogs have to feel to good with where they are at heading into the postseason next week. The Bulldogs took care of business last night in both sets to finish conference play with a 5-2 record. Abby Robinson was electrifying once again finishing the night with 10 kills and Lexie Gifford added nine kills of her own for St. Teresa. Makenzee Velchek also set the tone for the Bulldogs tallying 28 assists on the evening, which was her second highest total of the year. Maddy Yeakley led Warrensburg-Latham with three kills on the night. St. Teresa will finish their regular season tonight against Rochester.
Argenta-Oreana stayed hot on Thursday night as they finished Little Okaw Valley play with an undefeated record at 7-0 and also won their eighth straight game in straight sets against Bement, 25-17, 25-16. Hannah Slemp, Madyson Eller and Mikayla Kirkland showed a balance on the offensive attack as they combined for 21 of the Bombers 23 kills. Haley Williamson also added 19 assists for A-O. The win moved the Bombers to 22-7 on the year and they look to make a lot of noise with the postseason right around the corner.
A-L/A-H finished Little Okaw Valley play on Thursday night in strong fashion winning in straight sets over LSA, 25-8, 25-15 to put their conference mark at 6-1. They dominated in both sets to move their overall record to 22-6 on the year. Abby Foreman led the way for the Knights, as she tallied nine kills and teammate Taylor Powell has a nice night finishing with four kills, four aces and a block. A-L/A-H will take on Oakwood next Tuesday in Regional play.
Tuscola and Meridian battled in a conference matchup on Thursday night, as both teams looked to finish the regular season on the right foot with both teams starting regional play next week. Tuscola was able to take the early advantage in set one winning 25-15 and then pulled out a tight set two win to take the match in straight sets, 25-15, 25-21. Maddie Allen paced Tuscola with 10 kills and Caylen Moyer finished with 13 assists. Senior Chelsea Getz led the way for Meridian with nine kills and three blocks and Chloe Herbert added 11 assists. Meridian will return to action next week in regional play as they are the five seed and take on fourth seeded Sangamon Valley at home.