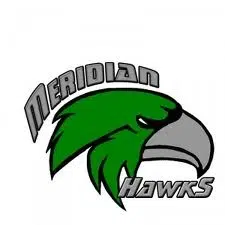 The Meridian volleyball team is starting to hit their stride at the right time in the year, as were at about the half point of the 2016 volleyball season. The Hawks are coming off of a third place finish at the Charleston tournament on Saturday and continued that Monday night with a straight sets victory at home against Cerro Gordo, 25-17, 25-7. The Hawks are starting to limit the errors on the floor and use better execution to help them stay competitive and win matches, as they did on Monday.
It was a slow start and a fairly tight first set that Meridian came away with and then they dominated the second set to move to 8-6 on the year. "Leadership from the seniors last night helped us overcome a slow start and got the team to settle down and start to execute our game plan," said Meridian head coach Tony Holly. "Our serving really clicked and we had three players tie for the lead with three aces each, which helped us keep the pressure."
Chelsea Getz led Meridian with four kills and Amy Aukamp led with four aces and Dominique McPeek added seven assists on the night. "Overall it was a good win against a team with multiple big hitters who really swing hard at the ball," said Holly.
The win continues a nice stretch for the Hawks, which gets a little more difficult tonight when St. Teresa heads down to Meridian for a conference tilt with the match slated for 7 p.m.