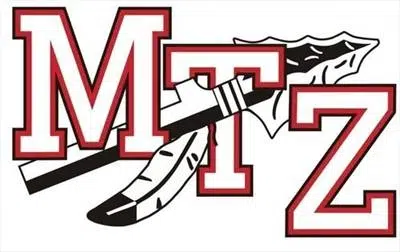 The atmosphere inside the Mt. Zion high school gym was electric on Thursday night which saw two talented area high school teams take to the court in a rivalry matchup. Mt. Zion came out on top winning in straight sets, 25-9 and 29-27. The Lady Braves took control right away in set one dominating and all facets controlling momentum and limit mistakes as they rolled into the second set. "Some of the best volleyball I've ever seen, the control and power. I've had a lot of good offensive teams but I don't know if I've ever had one like this with so many offensive weapons when everything is jelling and it was great offensive show," said Mt. Zion head coach Jay McAtee on his team's performance in the first set.
The second set had a much different feel with Maroa getting out to the early lead, but both teams battled the whole set, saw six lead changes and 12 ties throughout the set. Mt. Zion would pickup the second set victory 29-27 and win rivalry matchup. "I was proud with how the girls responded in the second set after a tough first set and battle to give Mt. Zion a good game," said Maroa-Forsyth head coach Sarah Mason. Senior Savana Sparks led the way for Maroa with seven kills and six digs.
The win for Mt. Zion moves them to 7-1 on the year and they return to action on Monday against Eisenhower. Maroa-Forsyth is now 2-2 and will play tomorrow in the Clinton tournament.