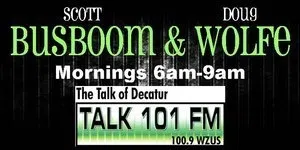 Coming up this Morning on Busboom and Wolfe:  We visit with Richland Community College as they are a part of our Spotlight on Education brought to you by World of Powersports at 7:10a.m.  We talk with Morgan Snyder from VisitIndy at 7:35a.m.  The Boss Mr Bullock stops by at 8:20a.m.  Come join the conversation at 6:00a.m.
Clean Joke of the Day:
"Do you believe in life after death?" the boss asked one of his employees.
"Yes, Sir." the new recruit replied.
"Well, then, that makes everything just fine," the boss went on. "After you left early yesterday to go to your grandmother's funeral, she stopped in to see you